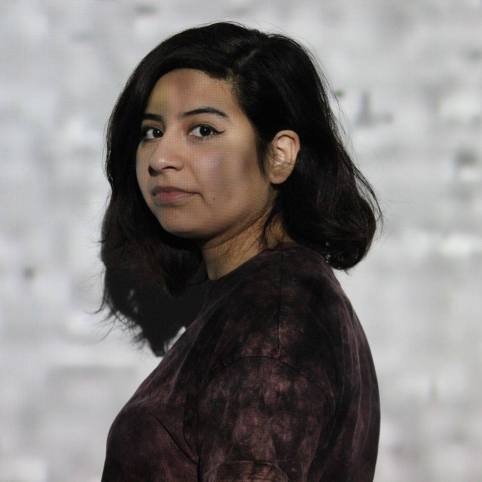 DIRECTOR, CINEMATOGRAPHER, & PRODUCER
PRONOUNS: SHE/HER
Kristal Sotomayor is a Philadelphia-based bilingual Latina documentary filmmaker, cinematographer, and editor. She serves as the Communications and Outreach Coordinator at Scribe Video Center and as the Festival Programming Coordinator for the Philadelphia Latino Film Festival. In the past, Kristal has assisted with programming and curation for the Philadelphia Film Festival, IFP Week (Independent Filmmaker Project), and the award-winning PBS documentary film series POV|American Documentary.
Drawing inspiration from her Peruvian heritage, Kristal's films focus on Latinidad, immigration, and belonging. As the daughter of Latino immigrants, Kristal Sotomayor has first-hand experience with the misrepresentation and underrepresentation of Latinx folks. Her objective with this film is to showcase the beauty, strength, and resilience of the Latinx immigrant community in South Philadelphia. She aims to decolonize documentary by practicing transformative filmmaking that humanizes and validates the lived experiences of underrepresented communities. WEBSITE
PRODUCER
PRONOUNS: SHE/HER
Marángeli Mejía Rabell is a Puerto Rico-born, Philadelphia-based cultural producer and community development practitioner whose work is centered on cross sector partnerships, collective impact arts & culture as a tool for social change and community revitalization. As Co Founder of AfroTaino Productions, she curates, co-designs and executes arts/culture programming, campaigns, special events and projects in public and private arena targeting multicultural audiences. Marángeli also serves as the Festival Director of the Philadelphia Latino Film Festival. Some of her most recent collaborations include Pepon Osorio's reForm at Tyler Contemporary and BrideNext, a Building Audience Demand project with Marty Pottenger and Bienvenidos Blancos with Team Sunshine Performance Corporation. WEBSITE
PRODUCER
PRONOUNS: SHE/THEY
Selena Yip was born in the Philadelphia Area and was raised with strong familial and community ties to Philadelphia's Chinatown. She graduated from the University of Pittsburgh in 2017 with a double major in psychology and anthropology. In 2018, she produced Staying Put: Stories of Chinatown's Resistance as part of Scribe Video Center's Precious Places Philadelphia history project, which documented the history of the Philadelphia Chinatown community's resilience in the face of urban development and gentrification. While working on the documentary, Selena met and joined the Philadelphia Asian American Film Festival team and is now working as their Communications Director.
Annie Diaz is a Puerto Rican documentary and fiction filmmaker based in Lancaster, PA. Recently graduating from Muhlenberg College, her studies included Media and Communication, Film Studies, and a minor in Documentary Filmmaking, which has strengthened her skills and understanding of documentary work within social contexts. Her work focuses on telling stories of communities of the historically disadvantaged with the intention to nuance conversations regarding their social and political issues. Her recent documentary, Para Ti, centralizes the conflicts Puerto Rican women face in relation to beauty standards, womanhood, as a result of migrating to the United States. Through this documentary, she hopes to continue to spread more awareness of serious, systemic issues Latinx communities, specifically undocumented immigrants in this case, face throughout the United States. WEBSITE
ASSISTANT PRODUCER
PRONOUNS: SHE/HER
Maya Winneg is from Elkins Park, PA studying film and education at Temple University. Her involvement in Philadelphia's community media began with her time interning at Media Mobilizing Project and continued with her work in video production at Philadelphia's Public Access TV station, PhillyCAM. In addition to working with community-based documentary and narrative forms, she hopes to explore the world of children's media storytelling. The director's energy and love for her community drew Maya to this project. She believes Expanding Sanctuary will empower those within U.S. immigrant communities and beyond.
ASSISTANT PRODUCER
PRONOUNS: SHE/HER
Samantha Tan is from Lansdale, PA - originally born and raised in Massachusetts. Before going into producing, she animated, voice acted, and wrote screenplays and poems. As she continues to develop herself as a filmmaker, she found herself falling more in love with producing. So far, she produced music videos, short films, as well as a few web series. Most of her works are POC-based. She wants to open up her own production company one day. WEBSITE